Kaiser, Fraser, Studebaker, Hudson, Packard, Edsel… Voitures d'une autre époque. Vous en rappelez-vous ? Moi, à peine ! Jamais je pensais en voir s'activer en 2017. Si, dans les « car shows » ou dans des musées de voitures classiques, mais stationnées le 18 janvier 2017 devant la quincaillerie Ace Hardware, à St. George, en Utah, une Nash Métropolitaine de 1961…et décapotable par dessus du marché.
Quelle était cette infatuation que nous avions, enfants, des « gros chars » ? Voici une petite histoire de ma jeunesse dans une petite ville états-unienne qui pourrait faire sourire quelques-uns. Elle est tirée d'un document intitulé Park City Remembrances publié ailleurs dans ce carnet (https://blogue.septentrion.qc.ca/dean-louder/2008/09/20/park-city-remembrancesfor-english-see-belo/).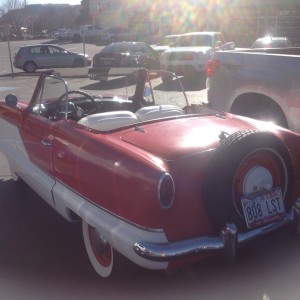 MC CUSKERS
Mike was a couple of years older than I, but Blaine was my age. We had been together in Mrs. Reeve's first grade and Mrs. Carlson's second. At first, the McCuskers lived behind the Park City II Ward church in the house that Wendell Peterson would eventually buy, live in, then move to Sandy. I didn't know Mike and Blaine too well then, but when they moved on to Woodside, just across the street from the same church I saw more of them. For a kid seven years old Blaine could really draw. He could dash out cartoon characters that were first rate. Mike and Blaine both considered themselves connaisseurs of fine cars and since I fancied myself somewhat of a specialist as well, having lived across the street from Mawhinney's Sinclair Service and Chevrolet/Oldsmobile dealership and witnessed the construction of his new « show room », we spent many hours ogling the new models that were occasionally parked along Woodside. I remember three in particular which caught our eye. One, was a two-tone green Nash four door sedan that looked like a seasick beetle. The second, was a sleek, long, low (almost flat) blue Hudson usually parked in front of Mrs. Webber's house. The last and, of course, the best was a great white Cadillac. What fascinated us the most about this King of Kars was the gas tank opening—there was none. We went over every inch of that car searching a gas cap or a hidden panel, but to no avail. One day we saw the owner, whom we didn't know, getting into the car and Mike boldly asked him how he put in the gas. Pleased, I think, that we had thus scrutinized his pride and joy, he led us to the right tail light and pushed a small red button which appeared to be part of the tail light assembly. To our amazement, up popped the whole tail light apparatus revealing the gas cap. The mystery was solved.
Blaine impressed me in another way. He could whistle louder than anyone I had ever seen. I was determined to master the technique and develop the high tones as Blaine had. I worked until my lips ached and finally succeeded. When I still had kids at home and they heard Blaine McCusker's high shrill whistle, they would come flying. Their dad wanted them on the double.